12pm-4pm / March 6th, 2021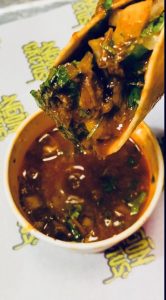 Well, our National Marg boxes went down a fucking treat, so just to celebrate being alive on Saturday 6th March we're bringing you a banging box of Mexican dirty goodness for you to finish at home.
Neon Cactus Taco Box £20
serves 2- includes 3 tacos each, chips & dips, delivery and a banging house playlist
You can choose from 'Meat Lovers'. 'Vegan Lovers' or you can enjoy the best of both worlds and grab a 'Half & Half'
Meat Lover: Birria Beef, Pickled Radish, Street Salsa, Whipped Honey & Feta Crema, Birria Dip
Vegan Lover: Oyster Mushroom & Roasted Red Pepper, Slaw. Avocado Crema, Crispy Garlic & Crispy Onions
Add Churros & salted caramel sauce £4
Add a 500ml bottle of classic margarita £20 (serves 5)
Add a 500ml bottle of Tommy's margarita £20 (serves 5)
Simply order using the link or slide on into our Instagram DM's...